Martin County

by Chris Hanning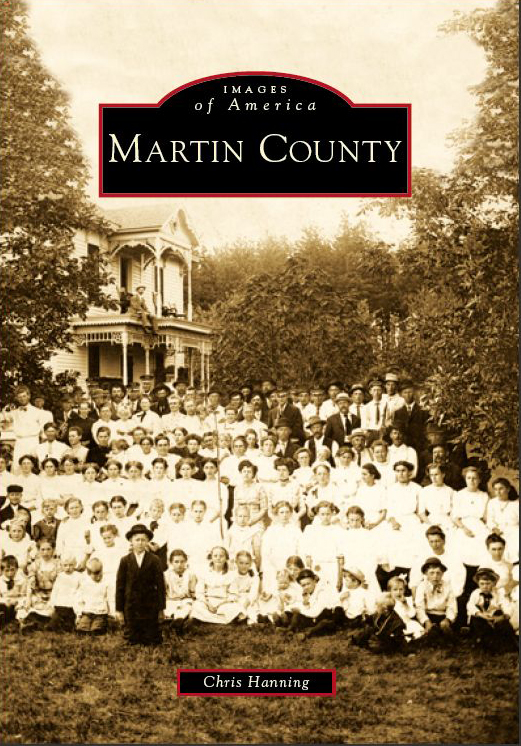 Copyright Arcadia Publishing
"When the first settlers arrived in Martin County in March 1856, the county was part of Brown and Faribault Counties. Perhaps these settlers heard the stories told by soldiers who passed through the region. They spoke of the many lakes and streams of clear water and abundant fish and waterfowl, ever-popular fur-bearing mammals, and timber stands where elk, deer, and buffalo foraged. Word spread fast, and by the winter of 1856–1857, the population of Martin County exploded to 20 men, 9 women, and 23 children.

Martin County

provides a visual record of the many cities in the county, from Dunnell to Truman and back down to East Chain and all the rest in between. There are photographs of the blizzard of 1881, a 1918 Red Cross auction, men balancing on telephone poles, and much more.

Chris Hanning was raised in Granada and has lived in Martin County his entire life. His love of history can probably be traced back to his grandmother, who wrote a history of his hometown. Hanning has published two other local history books and considers himself lucky that his ancestors came to Martin County in the early 1860s and to Minnesota before it was even a state in the 1850s.


The Images of America series celebrates the history of neighborhoods, towns, and cities across the country. Using archival photographs, each title presents the distinctive stories from the past that shape the character of the community today. Arcadia is proud to play a part in the preservation of local heritage, making
history available to all."
© Arcadia Publishing


All proceeds will benefit the Granada Historical Museum.
Please send $20.00 (a savings of over $6 if mailed)

Chris Hanning
PO Box 115
Granada, MN 56039


Please Email with any Questions
© 2009 Chris Hanning-Granada Historical Museum