Granada Livery Barn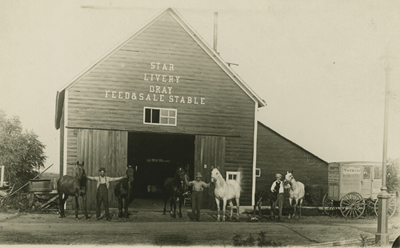 Star Livery Dray Feed & Sale Stable about 1910
Back in May 1893 when Granada was very young, W.S. Friend and W.H. Hodgman built the Star Livery. This livery changed hands many times but it is believed to be the first and only livery barn in Granada. At one time there was a windmill which was built in 1896. It was located approximately where the lean-to is in the photograph. It blew down under heavy winds in January 1909. Hugh Rice, A.B. Carpenter and Art Anderson were proprietors at one time after the turn of the century.
Years ago Joel Christian found an old implement commonly referred to as a log roller/can roller in the old building. He thought other people might enjoy seeing it so he donated it to the Granada Museum where it can be seen. The hand crank oak telephone from this livery still exists in a private collection when A.B. Carpenter owned it. There is also a bell in a private collection that came out of this building. Does anyone know why a livery barn would have a cast iron bell? Any information would be greatly appreciated.
The Watkins man from Sherburn Minnesota was peddling his goods in town the day this picture was taken. Mr. E. Stevens has his buggy parked in front of the livery. His horse is probably inside getting fed or watered. The people in the photograph are unidentified but the man on the left may be Art Anderson.
Art Anderson was probably the last proprietor. The livery more than likely went out of business in the early forties. By this time most of his business would have been from the area farmers. Bud McNea, Everett Hanning and Peggy Lutz do remember this business but it certainly was winding down as cars were very common. I myself can remember this building with lots of trees and brush around it with maybe one or two growing inside it. It had been vacant for many years by this time and wasn't a safe structure. I only remember it because during the Blizzard of 1975 it collapsed under the weight of the snow.
Peggy Lutz remembers Troy and Earl McBride actually sleeping up in the hay loft during her school years. They always had nice clothes but she doesn't remember them living anywhere else. Imogene Minnesota rings a bell with her, so maybe they stayed in Granada during the week and went home on weekends??
How many of you remember Otis on the TV show Andy Griffith? At least one local citizen was almost like him. This gentleman would also sleep in the hay mound when he was too intoxicated to go home. On the TV show Otis would stagger to the jail and help himself to a cell. Granada never had a jail so our Otis helped himself to some hay in the livery barn.
The livery was located where the city park is now. This was also the site of one of the town wells. When Peggy Lutz's family lived above the drug store, they went to the well in front of the livery. She "fondly" remembers having to carry the water across the street and up the stairs. This chore is one she didn't care to do. Peggy thinks back and wonders how clean the water was. Think of all the horses doing their business right next to the well.
Comments, additions, or corrections are most welcome: please send to the Granada Historical Museum, PO Box 115, Granada, MN 56039.
© 2009 Chris Hanning-Granada Historical Museum