Archie Handy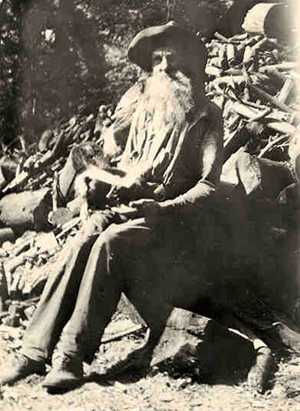 Archie and one of his pet skunks about 1927
Archie Handy was Granada's resident eccentric recluse and affectionately known as the hermit of Center Creek. When Granada was first founded, it was named Handy after Archie's mother and father, Abner and Sally Handy. Arch and his parents were territorial pioneers and settled very close to present day Granada about 1859.
Now Archie was a bit different but everybody liked him. Archie wasn't exactly a well groomed man and because of his looks most children were scared of him. Once they warmed up to him they realized he was fun to be around. Rena Boler remembers being leery of him for awhile but one day Arch gave her a nickel outside the drug store so she could buy some ice cream. After that she felt Archie was ok.
Archie never cut his hair or beard. Legend had it that he lost his gal to a barber. He then and there vowed to never enter a barber shop or let a barber work on him. Edwin Prafke was caring for him when he was 85 and some folks would ask if a doctor should look at him. Archie promptly replied "Had one once and he dang nigh killed me."
Archie had a great hill on his property. It was fantastic for sledding and many children used his hill for generations. It was even known as Archie's Hill up into the 1970's. It was very steep and you could easily end up on the other side of Center Creek. The hill is now completely overgrown with trees.
Children were always welcome at his house to warm up after sledding and they liked to visit. Adults however were rarely let in to his home. Archie's house was packed full of stuff and there were only paths to each room. Of course him being a life long bachelor it wasn't a clean place. He also used his basement for trash. So, most adults wouldn't want to go inside anyway.
In the 1920's he had a pet skunk. In later years he also had chickens in his house. A rumor from the 1920's amongst the children was that he had a horse in his barn that was never let out. Arch would feed and water it but never let it out. This of course wasn't true. It was something the boys would tell the girls.
About 1934, Archie went to Fairmont and his photo appeared on the Associated Press photo service with Archie saying "I wouldn't have come at all but I broke my dang lamp chimney." The Sentinel published his photo under the headline "Archie crashes the A.P."
Archie passed away on February 12, 1940 from pneumonia. He was laid to rest at the Center Creek Cemetery.
Comments, additions, or corrections are most welcome; please send to the Granada Historical Museum, PO Box 115, Granada, MN 56039.
© 2009 Chris Hanning-Granada Historical Museum